---
Ramaprasad's Web Home
---
A cyber home for me ! I have been thinking of building it for some time now and whenever I sat down for it, I used to think - "Let me hone up my knowledge of HTML & then, design the rooms & furnishings of my home. " God knows how much HTML funda is good enough to build a decent one. Alas ! I succumbed to the sheer pressure of not having an identity in the web and here it is. And thanks for visiting it.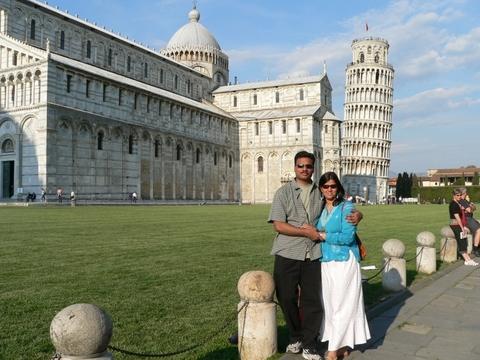 Achtung ! Don't expect my page to sing or dance or do a somersault, it will just sit and stare at you. I have posted pages on my mountaineering expeditions, business case studies , general fun and of course, my family, my work & me . Just anything, I found amusing or interesting
Links to some of my papers published in Business & Management Publications are also provided. In these papers, I have discussed on Business Re-engineering, Business Application Solutions Implementation exercises, E-business and Best Practices.
On the professional front, I work on Enterprise Resource Planning & Supply Chain Management solutions, and with an industry focus on Life Sciences sector (Pharma & Medical Devices). I am also an accredited Project Management Professional (PMP) and Supply Chain Management operations ( APICS CPIM ).
I currently work in the Life Science practice of BearingPoint Ltd. (formerly KPMG Consulting), based in London, UK.
A proud note on Dr. M S Swaminathan, the Father of Green revolution. The readers of TIME magazine have rated him as one of the "20 Most Influential Asians of 20th Century." We belong to the same family - "Kottaram", in Alleppy, Kerala.
I'll use the usual disclaimer- "This page is under ongoing construction ". I hope it gets better and I add some jazz to it down the lane. But, then again... it is a personal homepage - can't be as dynamically changing as a news portal. Please make sure to sign my guest book or mail me if you have any comments about the page before you leave my page and carry on to some greener pastures.
Ramaprasad K Subramaniam
E-mail : ramsap@yahoo.com


Cochin, India
Tel : +91 484 2540088

London,UK
Tel : +44 7810 630 068

hail from Ernakulam (more popularly known as Cochin), a port city in the Southern part of INDIA. True to the sobriquet 'The Queen of Arabian Sea', Cochin lies along the western coast of India in the state of Kerala. The geographical address of Cochin is 10° 09.2' N & 76° 24.4' E. Kerala with it's rich cultural heritage and abundant natural flora & fauna, is aptly christened as the "God's Own Country" by one & all.
I had my formal education in Kerala. My mother tongue is Malayala-Tamil. That's a mixed version of Malayalam, the language spoken in Kerala and Tamil, spoken in the nearby state of Tamil Nadu. The language used as medium of education and at workplace is English. Apart from these, I am familiar with Tamil, Hindi ( India's national language ), a little of Telugu & Gujarati. I have also had exposure to Sanskrit, the mother of all languages. Hai.. now a little bit of Japanese too !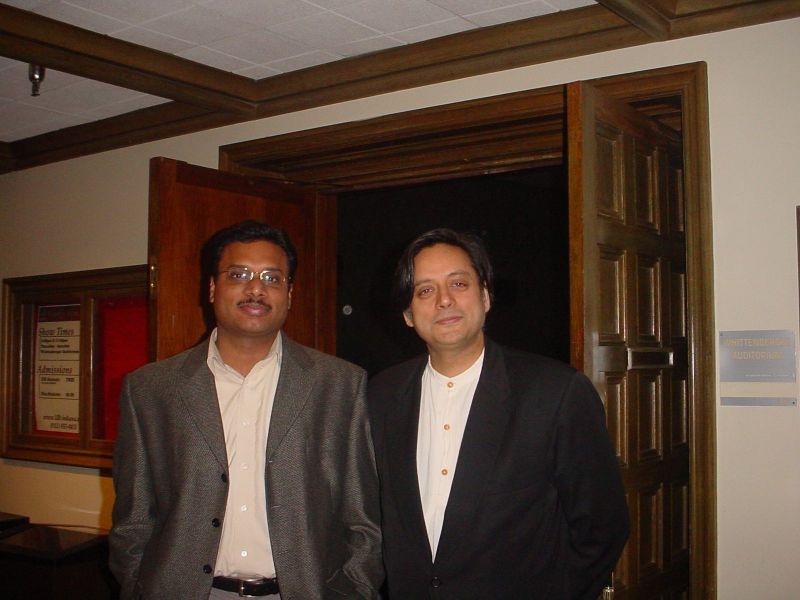 Well, I had no big dreams as a child, of being a research scholar or a doctor or an engineer etc. Yeah... but, I did dream of going to Moon and conquering the Mt.Everest (well, I still cherish this one !). I never smashed the grades nor had girls swooning all over me. I was a reasonably okay student at school with more or less staying around 4 - 6 in a class of 25 students. Yeah ! I did go way off the mark once each in 3rd and 8th class by becoming 1st in the class. Reason - the usual topper did not appear for the exam ! I was an active member of debate forums. Quiz competitions have fascinated me always. I have represented my school/ college in a few & I remember that I got my copy of Jawaharlal Nehru's "Discovery of India" on coming First in one of them. I was quite actively involved Boys Scouts in my Upper Primary School and later in National Cadet Corps ( NCC ) and led my school's troop in my 10th class.
And when I got out of 12th class, I did what thousands of other Indians do; I went to an engineering college. I did courses in Production Engineering and Management at Regional Engineering College, Calicut, Kerala, India and completed the courses in 1994. Based on it's outstanding performance over the years, this school has been declared, in 2002, a National Institute of Technology.

The campus life was very lively and eventful. The campus life as seen by me in a lighter vein is also posted in this site.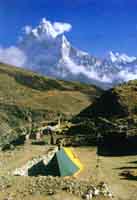 Mountaineering - always amazed me. I could not resist the call of The Himalayas anymore. I was part of TWO Himalayan Mountaineering Expeditions. I was a member of the team which scaled 15,200 Ft. of Mt.Kanchendzonga in the assault made from the Sikkim ( India ) side of the peak.

The very next year I successfully led a team to the RoopKund Lake at 16,500 Ft. in the Garhwal Himalayan ranges ( UP, India ) .

2001 saw a revival of hiking in me. I was mesmerized by Mt.Fuji's ( Japan ) majestic & mystical beauty. I successfully climbed Mt.Fuji, the dormant volcano & the tallest peak in Japan.

Earlier, the summer of 2001 saw me trekking around the Northern ranges of Canadian Rockies along the Jasper National Park and Banff National Park in Canada.

Half Dome Peak - nature carved the peak and the valley with the latent force of glaciers through the ice age and the peak overlooks the Yosemite valley in California, USA. The final ascent leg of the climb is the icing on the cake - the last 800 ft to the very top is done almost vertically by pulling yourself up a steep steel cable. I climbed this peak in the summer of 2003 and also some wonderful hikes in the Sequoia NP & Kings Canyon NP.

Apart from this, I used to go on treks in the Nilgiri ( Blue Mountain ) ranges in South India, quite regularly.
I currently work as Manager in the Life Sciences practice of BearingPoint Inc. (formerly KPMG Consulting) in USA. In Life Sciences Practice, we provide Management & Technology Consulting to our clients in the Pharmaceutical, Medical Devices & Health industries.
My career so far... it all started with my job interview at my Engineering College Campus in 1994...
I knew that I didn't want to confine myself into pure engineering. I wanted something more than production shops, engines and drawing boards. And one of the Campus interviews landed me in a job oriented more towards Applications Development & marketing.
ITW Signode which has diversified operations in the areas like Supply Chain solutions, end-of the line packaging systems / solutions, packaging equipments & consumables, work holding devices & tools, specialty cutting fluids, was a real learning ground for me and helped me in developing my skills.
I enjoy Operations ; and I want to work with technology also. I found a confluence of this in ERP and found SAP to be the best of the breed. The interest in Operations & Consulting took me to BPR & ERP Consulting. I worked on quite a few interesting SAP implementation projects. It is during this period, that my experiences led me to publish a paper on the Organizational preparedness for a successful BPR/ERP implementation. This paper first appeared in Business Today. Meanwhile, I was also certified as a Consultant in Supply Chain Management (SCM) and related operations ( CPIM ) by APICS - American Production & Inventory Control Society.
I have also been certified a "Project Management Professional" (PMP) by Project Management Institute, USA.
As a logical extension of my ERP/BPR consulting career and work-ex in Logistics functions, I obtained exposure to SCM solutions consulting thru' the SCM solutions suite of products from i2 Technologies.
Armed with the SAP experience & the exposure to SCM arena, coupled with my PMP & APICS certifications, I landed up in couple of marvellous assignments which provided me a very challenging world-wide project spanning across USA, Japan, Germany, France and other European countries. This long term world-wide SAP Implementation project provided me ample opportunity to put to use my business experience and yeah, a learning opportunity of business & culture in these nations.
After this, I took up a position with Eli Lilly & Company, the pharmaceutical giant, based out of the Lilly World Headquarters in Indianapolis, USA. I worked in the Global Business Integration Project aimed at streamlining the Business Operations of Lilly affiliates worldwide, and my specific focus was on EMEA & Puerto Rico operations.
And... more than a decade after I sat with the interview panel back in my Engineering College Campus and taking a break from a globe trotting consulting project, I am currently anchored in Indianapolis, in the midwest state of Indiana, USA.
My family...
My parents live in Cochin now and of course, I am what I am today because of them. I am the youngest of the three sons in my family. My eldest brother is married and I have a nephew, who is right now the live wire of the family.
I always had the thought of identifying & documenting one's own roots and culture. Also, give back whatever is possible to your society - I believe that's a duty rather than a choice. And staying away from home and especially from the home country itself, adds fuel to such ideas. Alongwith some like minded friends I started a website - www.KeralaIyers.com, a single point contact for people from similar background to meet and discuss issues that focus on the Human aspects. This is NOT a religious or communal or spiritual site, but a forum to bring together like minded people to streamline some social activities.
Shortly after launching Keralaiyers.com, we started Kerala Iyers Trust - a charitable Trust in India, aimed at the welfare of the needy people among the Kerala Iyer community. The main objective of this Zero Organizational Cost Trust is to identify & organize financial, educational & medical help for the financially deprived members of Kerala Iyers community.
Dr. M S Swaminathan, the World famous Agricultural / Genetic Engineering Scientist is considered to be the Father of Green revolution. His contributions to the mankind have made famine an unfamiliar word in Asia. Various Countries & Organizations have honoured him for his contribution to the human race. The readers of TIME magazine have rated him as one of the "20 Most Influential Asians of 20th Century."The other Indians who figure in this roll of honour are Mahatma Gandhi & Rabindranath Tagore. We belong to the KOTTARAM family of Monkombu, Alappuzha , Kerala.

Dr.Swaminathan, 74, is currently pursuing his research at the M S Swaminathan Research Foundation based at Madras, India. TIME has this to say about my Uncle....
Flags of Countries (Soveriegn states) I have visited



















Place the mouse over the flag to see the Country's name
---
{ Top of page }
Sign My Guestbook

View My Guestbook
---